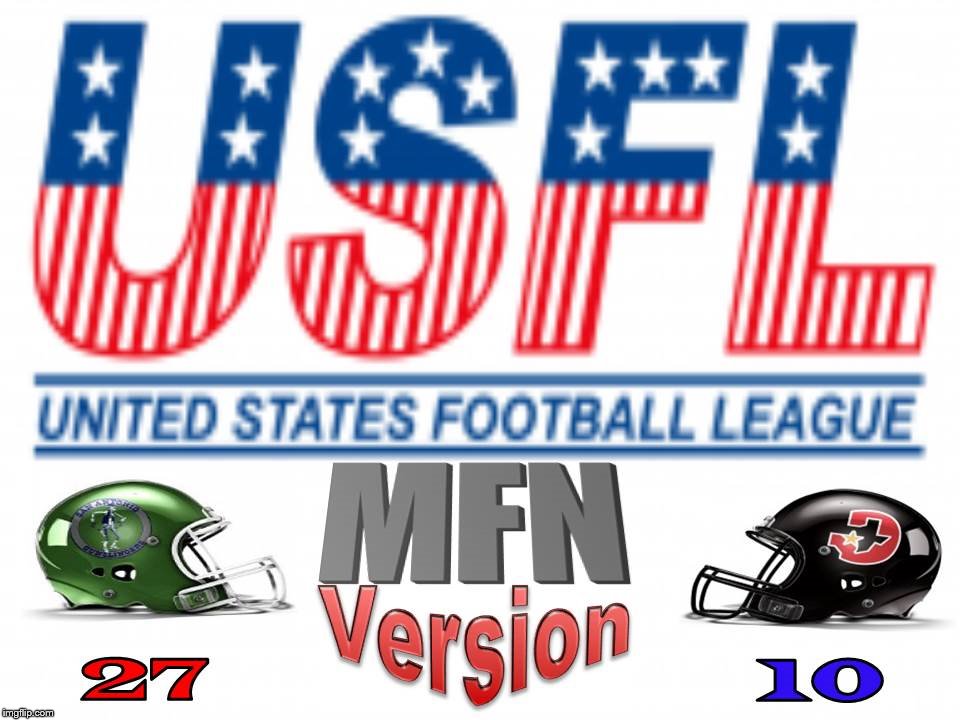 The Houston Gamblers opened the season with a loss against Divisional and I-10 Rival San Antonio Gunslingers as they thrilled the 67,925 in attendance at the Astrodome.
Things started out bad right from the very first play of the game as Sam Antonio's Quarterback
Tony Smith
completed a 64 yard TD pass to
RB Jeffery Graham.
coming out of the backfield. That would be the only scoring in the first quarter of play as the Gambler's defense created two back-to-back turnovers. After the initial quick strike TD by Smith, Gambler's Rookie FS
Thomas Erwin
intercepted a Smith 8 yard pass attempt on Houston's 15, stopping a 7 play 65 yard San Antonio drive. After a Houston 3 and out punt, Erwin again let his presence be known as a hard hitter as he created and recovered a fumble on Houston's 38.
The Gunslinger's next possession ended in a TD as RB Graham ran to the left side for 11 yards capping of a 7 play 54 yard drive over the end of the end of the first and beginning of the second. The Gamblers then went 66 yards and had San Antonio scared as Gambler QB
Chester Dougherty
lined up 1st and goal on the Gunslinger's 9 against a nickel defense . But as the play developed, Dougherty was picked off by
CB Leon Crisman
in the back of the end zone on a pass intended for
Rookie WR Brian Rosenberger
. The Gambler defense once again stepped up and created another turnover as
SS William Pritt
stripped the Slingers RB of the ball and was recovered by
CB Jason Hatch
on Houston's 44 stopping another 7 play 36 yard drive.
The home crowd could feel momentum changing as their home team was getting it's mojo started. The offense stepped up with a 10 play drive that covered 62 yards in 3:47 minutes. After calling their third time out in the 2 minute warning on San Antonio's 17. Dougherty then once again lined a spread out defense and immediate liked what he saw as he called
WR Robert Richards'
number and connected on a 17 yard TD.
Smith again struck fast with another long bomb, scoring on a 62 yard throw. after the kickoff, Houston answered with a bomb of their own when Dougherty connected a 37 yard toss to
Rookie RB Rickey Saucier
setting up a 55 yard FG attempt by
K James Peeler
with :04 second left in the half. Peeler's kick was good to end the half Hou 10 SA 21.
The Gamblers felt like they now had the game in control. They definitely had momentum on their side and was getting the ball back to start the third. But inexperience of the team showed in the second half as they were only able to gain 10 total yards offensively and punted five times while defensively allowing 111 yards and 2 FGs.
Highlights on the game included
RB Robert Carroll
rushing for 109 yards on 17 tries for an 6.41 average. Better than expected considering that Houston averaged 1.67 yards per attempt on the ground in the preseason. Carroll also had 5 runs over 10+ yards, with his longest being 15 yards. Another highlight was WR Richards 8 catches on 11 targets for 91 yards and a TD.
Some lowlights are the 8 sacks allowed by the team, 3 by 2nd round draft choice Rookie
RT Richard Mosley
, the 6 penalties for 50 yards, and averaging 13 yards to get a first down on 3rd down.
Last edited at 8/01/2017 2:05 pm