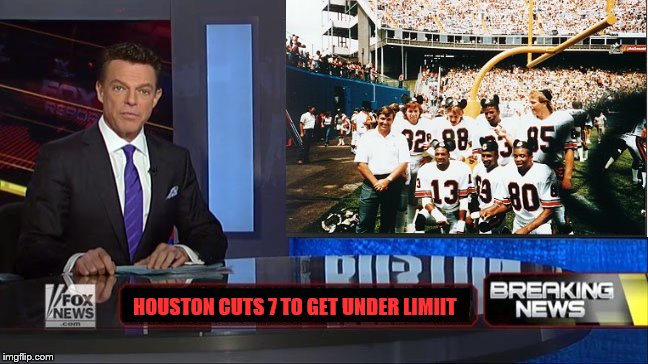 Its the day that every Coach, Player, and fan hates....Cut Deadline to get from 60 players to the league maximum allowed to be on the team of 53.
"I personally dislike this day," Gamblers Head Coach Steve Sargent said. "After spending so much time on the draft studying players, watching countless hours of film highlights, putting them thru routines, helping them with their lives, and just getting to know them on a personal level, making that hard decision on who to keep as to who to let go just puts my stomach in knots. It really is the hardest part of my job. But I got to do it because if I cannot, then the Monkeys in the Front Office will get some one who will."
The releasing of players frees up nearly $3.8 million of this season's salary cap while still being hit with $509,000 this year and $36,000 the next year.
Four of the seven being released was drafted by the Coaches, the other three were signed either off waivers or as a undrafted free agent.
The most notable is
DE Mark Larson
. The 6' 262lb player from Kansas was hoping to play his third season in organized football after being drafted by Houston as the eighth player in the 26th round. "He is just a little light for the position that I prefer," said Sargent, "and being so deep at the position, he really didn't get a good chance to participate. He was just a victim of the numbers." Larson played 102 snaps in all 4 preseason where he had 6 tackles and recovered 1 fumble. His release saved the team $1 million +.
Another victim of the numbers was
LT John Wyatt
. After having a good training camp where he improved his all around talent, the 24 year old Nebraska Cornhusker was originally placed on the trading block by the coaches in hopes of continuing his career after 2 seasons in sandlot ball.
"This was truly a hard choice for me," said Sargent. "John was usually the first in the gym, in the meeting room, and first on the field. And therefore, it would be only fitting that he would be the last one I chose to let go. Wyatt had everything I wanted in an offensive lineman, size, (Wyatt stands 6'4" and weighs 312 pounds), strength (he benched pressed 220 pounds 52 times at the tryouts), speed (he also ran a 6.42 second 40 yard dash at the tryouts). I had him rated even higher than the general rating guide. His run blocking skills are a definitely a B, but I had him getting up to an A thru coaching, but his pass blocking left something to question. But he could line up in 4 of the 5 line man positions without a loss of talent or experiance. That's why we were excited when we were able to draft him in the 28th round."
Wyatt, the cousin of one time WWE World Heavyweight Wrestling Champion Bray Wyatt, played 109 snaps in three of the four preseason games in which he was a starter in one. During his time playing, he was penalized twice for 15 yards and allowed 1 sack.
Another third year victim being released is
DT Kevin Davis
. After being released originally by Denver, he was picked up from waivers by the Gambler's where he had a great camp. Davis played in three games, starting one for Houston. In the 84 plays he was part of, he recorded 5 tackles, 1 sack and made the QB hurry his throw twice. "if it wasn't for being injury prone, Davis would be on this team," Sargent stated.
Another player that lost his job due to being more in the trainer's room than on the field is
RB Robert Crigger
. Originally drafted as a Reciever and converted to Halfback, the third year player injured his foot in the first game of the season which limited his playing time. "We moved him to Back because as Slot, he wasn't going to make the team," said Sargent. "Guess by making the move to help him out didn't help him at all." Crigger played 31 snaps where he gained only 12 total yards, 4 as a rusher and 8 as a receiver.
Undrafted Free Agents signed by Houston to fill needs that which were released are
DE Anthony Greely,
RB Tony Lee,
and
C Teddy Brown
.