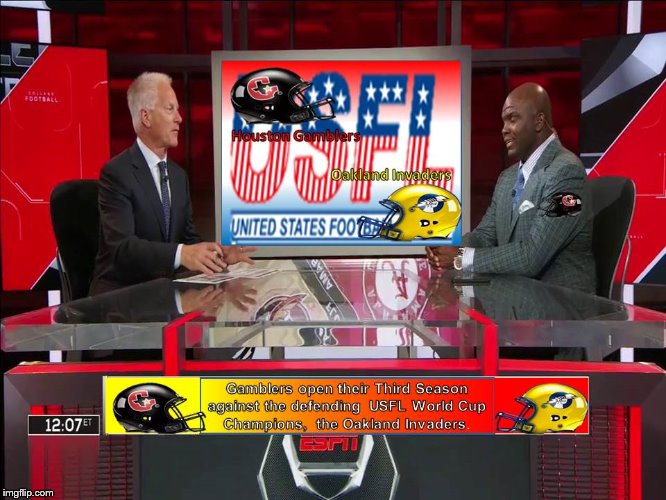 Hello, I'm USFN Sports Announcer, Ben Dover, here with Houston Gambler's owner, Booger Ninetwosix, on my show "Ben Dover and Take it," where I ask the tough questions. Mr. Ninetwosix, welcome to the show.
Booger: Please call me Booger.
Dover: Ok. Booger. Let's get to it, after a very humbling first two seasons in which you have went 9-23, where do you think your team stands now?
Booger: I am extremely excited, as I am at the start of every new season, but so more this season. Just as I wear my team's patch on my left sleeve, the closest to my heart rules. As you know, my team has made some improvements in our defense thru the draft and free agency. Because of that, I do think that the USFL fans, as well as Houston Gambler fans, will see a greatly improvement in our team.
Dover: You mentioned your improvement towards the defense side of the game, where you were 20th in the league in Passing Defense, 21st in Rushing Defense, and 21st in total Defense in the last season. What makes you think you have made improvements?
Booger: Well, for one, we drafted 2 DB in Vargas and Keely in the first two rounds of this year's draft. With the league's overall commitment towards the passing game, those two picks alone will keep this team on pace to be competitive.
Dover: But you drafted CB Bonnet, which you traded this season to the defending Pacific Champions, the Honolulu Hawaiians, with the 5th overall pick in the first round of last season to help your passing defense for a third round pick this season, and yet you were still in the bottom third against the pass. How do you explain this?
Booger: Call it addition by subtraction. With the trade, we were able to draft our FB George Webb in the third round. Webb is considered "too fast for a FB, too big for a RB, and too small for a TE." I have found that those considered "ain't good enough", the under-achievers if you will, are usually the most over achievers. We will see.
Dover: You said you focused mainly on your defense, but you drafted a FB, an offensive player, in the third round.
Booger: And your point is? He was the best, by my standards, who was available at the time. I also drafted another offensive player, Center Carl Lawlor, in the third round. Lawlor is etched in stone as the team's Center for the next 10 years. Just because I admit I need D doesn't mean I should neglect my O.
Dover: But….
Booger: There's no buts about it. It was my choice and I will live by my choice of letting my GM make my choices for me. I do believe my GM made the right decision in my third round picks. If you have a problem with them, then I suggest you speak with my GM, Dewey Cheatum. I do have a strong Offense.
Dover: Let's move forward. You start your third season in the USFL going against the reigning and defending World Champions, the Oakland Invaders. And after an embarrassing preseason 4th game against Tampa Bay, which you lost 56-3, how do you expect to even compete against such a superior team?
Booger: You seem to forget that 1976 is a brand new season. Right now, all teams are considered equal. Oakland has won just as many games I have at this point. Although I put on a persona of not being intimidated by Oakland, really they are a good team, but this time in the season, I ain't scared. The Oakland Invaders are the current measuring stick for the league.
Dover: And what do you consider your measuring stick?
Booger: Self Improvement. I am just as good as everybody and nobody is as good as I am.
Dover: Okay. You say you are just as good as everybody else, but your record against teams says you are not. You do know that in the past two seasons you have only won one game against teams within your own division.
Booger: And that ONLY win against divisional foes was against our Interstate Rival, and two time Divisional Champion, the San Antonio Gunslingers. So our win was against the best, which goes to say we are improved.
Dover: But…
Booger: But what? We are the current owners of the I-10 Construction Zone Trophy, to represent our rivalry against San Antonio. And the League is getting together to discuss another possible divisional rivalry trophy between my team and the Oklahoma Outlaws. Why would the league put up dollars for a trinket if they do not see the potential coming?
Dover: Ok, but let's get back to your seasonal opener against the defending Champions, Oakland Invaders.
Booger: Sure
Dover: How do you think your team will fare?
Booger: Right now, at this time, we are all equal. I like my chances.
Dover: But you're a 17 point underdog
Booger: And David was a 98 lb weakling going against a Giant, yet we all know how that turned out. Look, I can see where you are heading with this. The hardest thing about being Champion is remaining Champion. I'll give Oakland and their owner the respect they deserve. They did it the hard way by earning it. But if they think that we will just roll over and die, or run away and hide just because of who and what they are, then they have another think coming. Every fight that I have been in, when I was kicked to the ground and left as beaten pile, I got back up and asked, "that the best you got?" I have fought thru adversity that others fear and I am still here. I install that trait in my team as well as every player and personnel in my organization. I admit that I am no Champion…yet…but I ain't no loser either. My team does not lay down for anybody.
Dover: Let's talk about your team. You said you will only carry 2 QB's but after preseason cuts, you still have 3 QBs on your roster. Why is that?
Booger: It's because when you light a fire under someone's butt they produce beyond belief. Honestly, I thought without a doubt that James Lightfoot would not be on this team's starting roster after his performance in week one of preseason. Then, in his showcase game in the third preseason game against Washington, he went 22/33 for 510 yards and 5….count them 1,2,3,4,5….TDs. He played behind a 2nd string OL and with back-up Receivers and still put up those numbers. Needless to say, he now has my, as well as my coaches attention.
Dover: Is he your starter?
Booger: No. Chester Dougherty is still the leader of this team. But Lightfoot did put our rookie QB Walton Vasquez, who had an outstanding training camp as well as a great preseason, on notice that he isn't going away any time soon. So our QB chart reads Dougherty, Lightfoot, and then Vasquez in that order. But things may change since both Dougherty and Lightfoot are on the trading block. Right now I am comfortable with Vasquez holding a clipboard while learning the game.
Dover: Well, it seems you definitely seen your weaknesses and focused on improving them. Do you still have any weakness.
Booger: Oh hell yeah. This team still needs OLmen, LBs, DBs and DE's. But one step at a time.
Dover: Can we get a prediction on your game with Oakland?
Booger: Sure. One team will win and one team will lose, surely to sing the Blues
Dover: Interesting that you quoted lyrics from the band Journey
Booger: Isn't life a journey?
Dover: Sure is. Thanks for your time Booger Ninetwosix, owner of the Houston Gamblers.
Booger: Thnx for having me. And remember to feed your faith so your fears will starve.
Dover: (laughs) OK. I'm Ben Dover and this has been my show, "Ben Dover and Take it." Thanks for reading.
Booger: you know, you REALLY should put some serious thought on changing the name. Just saying
Dover: (laughs as exit music plays) You're too much.