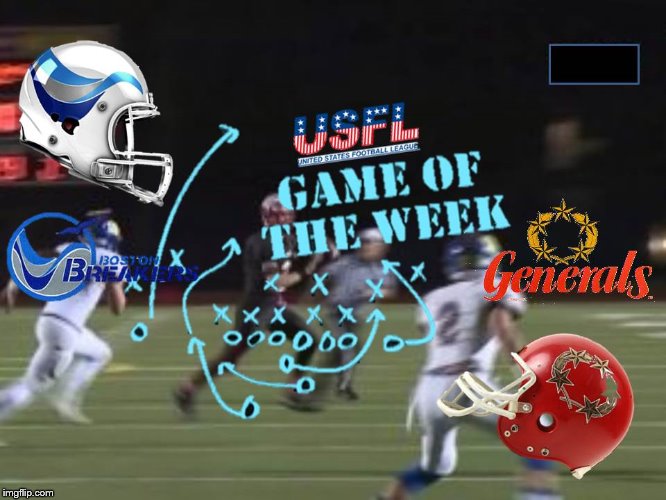 It's a National Conference East matchup as the 5-0-1 Boston Breakers travel 280 miles south to take on the 2-4 New Jersey Generals. The Breakers will play their final divisional game of the season, and if they were to be successful against the Generals, they would be undefeated within the division and have a 3 game lead over everyone and pretty much able to stake claim to their First Championship.
The Generals, owned by their Punter
Donald Trump
are going to this game a band of walking wounded, having 7 players injured and questionable to play. Since losing their starting QB
Doug Fluty
who was taken in the first round of this year's draft, in the third game of the season, Jersey has been on a 1 game winning streak. But having 4 Quarterbacks on the roster is a blessing. When Fluty went down, their waiver wire pickup of
QB Stephan Labelle
stepped up.
During his time to shine, Labelle threw games for 223, 244, and 379 yards for a total of 846 yards. LaBelle is 62 for 115 (56.6%) and threw 6 TD against 1 INT during that time. His overall QB rating is 89.79.
Boston also has been rotating their Quarterbacks. The battle between the two almost seems to not be a battle at all since
Jonathan Keefe
is sporting a 122.72 QB rating against
Roger Boyer's
96.69 rating. Keefe is 48/86 for 830 yards and 10TD/1INT. His 9.65 yards/att is one of the best in the league.
Defensively Boston has seven players with a sack and 5 players with an INT. Their RB
Nicholas Wingfield
is a triple threat, having scored 7 times on the ground, thru the air, and on special teams.
New Jersey has 9 players with a sack, led by players
DT Jim Byrne
and
LDE Freddie Gilbert
who have 8 a piece. Their CB
Mike Williams
is 3rd in the league in Interceptions.