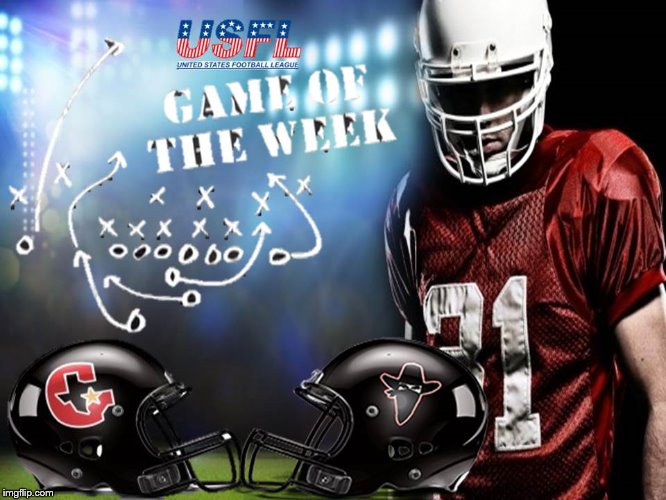 It's the
RED & BLACK ATTACK 2
as the Houston Gamblers (1-3) travel up I-35 to Tulsa to take on their Divisional Rival, the 1-3 Oklahoma Outlaws with revenge on their minds. The last time these two teams met in week 3, and true to their bandit nature, the Outlaws stole a 24-17 victory even though they were definitely outplayed by a better Houston team.
"Yeah, that loss left a bittersweet taste in our mouths," said Gamblers Head Coach Steve Sargent. "Being a new league, we didn't know what to expect with only 3 games of information to go on. I believed I studied and planned a good enough strategy to beat them, and statistically we did, in every aspect of the game except the final score. And if we had 5 more seconds, the final score would be different and in our favor," stated Sargent referring to the 9 play 67 yard drive in the last 2 minutes where Gambler's TE caught a 8 yard pass and was tackled on OK's 3 yard line. "I am still upset, no pissed with a capital P, that my staff wasted all our time outs in the first 34 seconds of the 2 minutes and then with no TO left, decided to run the ball on 3rd and 6, which we made, and to follow it up with another run to the right side. And after all that, we still connected that pass to our TE that what we thought would be the tie. After all, what coach actually would play like that."
"The Outlaws are what we thought they were. They couldn't pass and they couldn't run against our defense. Their defense was allowing our wide outs to catch the ball and turn up field for 7 yards before anyone could get to them. Their defensive line had so many holes that our RB was averaging 8 yards a carry. Our team, being favored to win that game by 10 points took the Outlaws lightly. I guarantee you, that will not happen again."
Statistically wise, the Outlaws are once again the proverbial David going against Goliath. They complete 45.9% of their pass attempts for an average of 193 passing yards a game, the 29th ranked in the league. Their pass defense is the 2nd worst in the league against the pass, giving up 355+ yards a game. Meanwhile, Houston has the 15th best passing game, averaging 298 yards, and has completed 55.5% of their passes.
Oklahoma's running the game isn't much better, averaging 53 yards a game while giving up 142 yards average against them. The Gamblers average 99 yards a game on the ground and teams have been able to gain an average of 64 yards running against them.
The Outlaws overall total yardage defense is ranked 31st out of 32 teams, while Houston has the 15th ranked. Oklahoma has been outscored in the first 4 games by 46-121, a average difference of 19 points a game. Houston has been outscored 64-83, 5 points a game.
Tangibles that could effect the score are the Turnover Margin and Penalties at the wrong times. Oklahoma's and Houston turnover is even with both teams having a +6 in that category. Houston is a more disciplined team, getting penalized 2 times a game while the Outlaws get 4 a game for minus 45 yards average. Those two things could be the difference in the final score.